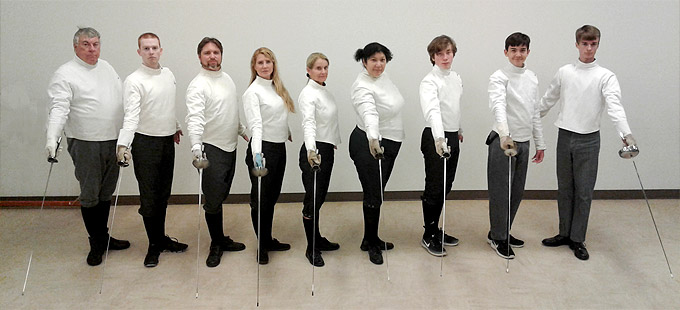 Group Classes
Group classes are held Wednesday evenings in North Palm Beach and Thursday evenings in Greenacres (near Lake Worth and Wellington).
Private Lessons
Private lessons are available on request. Please inquire for more details.
Demonstrations and Lectures
We are available to perform demonstrations and lectures. Topics generally include the history of fencing, weapons used in fencing, cultural influences of fencing, and more. Exact topics, length, format, location, and audience participation/interaction can be tailored to fit your needs.
About Classical Fencing
Classical fencing is a Western martial art, commonly known as a Historic European Martial Art (HEMA), that focuses on the practical application of the sword and its use in preparation for self-defense and personal combat. It differs from modern fencing in which the martial aspects of the weapon have been largely forgotten.
As a student of classical fencing, you will learn to use a sword as it was used in the 19th century when fencing was practiced as an art and science, as preparation for a duel, and as a recreational activity.
While the focus is on realism, all modern safety precautions are used; weapons are blunt and students wear protective gear (glove, jacket, and mask). Classical fencing stresses control, both of yourself and of your weapon, and it is this focus on self-discipline and awareness which makes it similar to Eastern martial arts.
Classical fencing is also great training for stage combat and fight choreography. Please inquire if you are interested in learning those disciplines.
About the Instructor
Kim Moser has had over 30 years of instruction from the Martinez Academy of Arms. He has earned the rank of Instructor, and is qualified to teach this rare and unique art.
For further information please e-mail Mr. Moser at or call .
Mailing List
to stay updated on schedule changes.